Patrick Drolet, the incredible problem solver
On the soccer field, Patrick Drolet is a defender. If you know anything about the sport, it's that the defence's job is to stop the opposing team from getting to the goal and correct any mistakes other teammates make.
At Notarius, Patrick does the same thing. Whether it's rolling out new products, rethinking customer service, fixing bugs or building the website, he's often the first guy off the bench, ready to tackle any issues.
We wanted to find out what motivates him to overcome the obstacles in his daily work. Where many people would see roadblocks, our VP of Operations and Product Strategy sees opportunities to take new paths and talk about things differently. An engineer's intuition? Maybe! But there aren't many people who manage to do it with the same sense of teamwork as Patrick.
Finding his way back to what he loves
To really get Patrick, we have to talk about how he treated his employees when he had to close his specialized IT security firm, Galea. Despite their success and the support they received from Caisse de dépôt du Québec, Patrick and his partners had to close Galea's doors back in 1999. While some entrepreneurs would have immediately headed off to greener pastures, Patrick made sure to score interviews for most of his former employees.
"We closed while showing our team we cared," he said.
With his mind at ease, he started working for companies like Hyperchip in Montreal and then AcceLight and Nanometrics in Ottawa. He then went on work for Atlanta-based EMS Technology, where he was a product and program manager and managed products and initiatives that generated revenue of around US$40 million annually.
Wanting to return to Quebec, he then worked for three years as a product portfolio manager at EXFO before ever even hearing of Notarius.
"When I was at EXFO, a third of the time, I was overseas," he said. "After a while, I didn't have a life anymore, […] so I wanted to stop travelling. That's when I heard about Notarius and encrypted digital signatures. As someone with a background in IT security, I was definitely interested!"
In addition to being an IT security buff, Patrick admits he was really impacted by a case of fraud that turned one of his friend's lives upside down. For him, joining the Notarius team was an opportunity to put an end to fraud and a rare chance to work more closely with the general public.
"Something I find really motivating is that at Notarius, we're helping protect the public. We're close to the people we're helping. In reality, we're protecting people who work in the engineering, legal and architectural sectors."
Continuous change as a management principle
Patrick is always trying to perfect how Notarius does things. He loves taking us out of our comfort zone so we can find novel or unexpected solutions.
"Sometimes, we're lucky," he observed. "For example, when COVID started, our new identity verification process allowed us to onboard a lot of people in a short amount of time. I think we learn and change by getting out of our comfort zone."
And Patrick knows a thing or two about being uncomfortable! He's even an expert in what we call "three-headed monsters." By his own admission: "Our current team is already busy with ongoing projects. My job is to handle the challenging or special projects where there's a lot of uncertainty and we need a new approach."
Like a defender on a soccer field, Patrick is the player who gets the ball going in the right direction again. He makes clever passes to get the team back on offence—and back on track.
What's his secret? More than anything else, it's understanding what stakeholders are saying, the technology itself, and market conditions.
"When you know what's going on underneath the hood, you can come up with much more creative and effective ideas. Otherwise, I might make a completely ridiculous request!"
As the vice-president of operations, Patrick changed several key processes that are now an integral part of the customer experience. He also oversaw the implementation of an online subscription option for our digital signature solution.
"Before, you had to do it by hand by filling out a form. We had people entering data manually."
Patrick got a taste of his own medicine when he joined us here at Notarius, and now he's glad he did! Once an ISO standards skeptic, Patrick is now a strong proponent of our ISO 9001 and ISO 27001 certifications thanks to the support of several of his colleagues.
"I've always strived for efficiency. We've reached a noteworthy level of operational efficiency thanks to the reference frameworks provided by our certifications."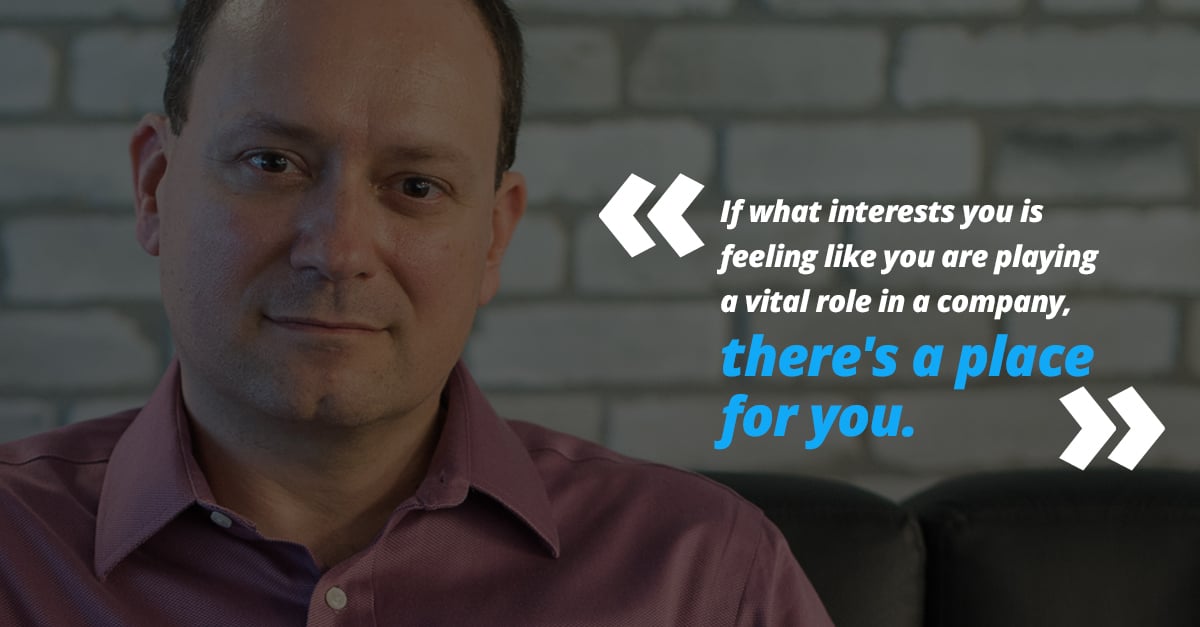 Proudest of all of Notarius' values
For Patrick, Notarius' greatest strength is our team's culture and values, and he takes it upon himself to share Notarius' vision with new team members as much as he can.
As he describes it, "We have five official values: respect, ambitiousness, curiosity, exemplarity and commitment. We have an unofficial one, too, and that's transparency. Playing a role in sharing these values is really important to me."
Patrick believes Notarius has never had as many opportunities as it does right now. All that's keeping us from seizing them is hiring more qualified and motivated people.
"If what interests you is feeling like you are playing a vital role in a company, there's a place for you." he said. "For being such a small company, we have amazing benefits, and we're having an incredible growth spurt. Plus, the compensation is very competitive."
Let's just say that, having spent time at big foreign companies, Patrick knows what he's talking about when he compares Notarius to other workplaces. With his experience and qualifications, he's the type of manager who could work anywhere, but he admits that the atmosphere at Notarius makes all the difference.
"We don't shy away from challenging others' ideas. We can discuss ideas constructively, and in the end, we arrive at a better approach."
He also concedes that the business is now at a mature stage where it's easier to plan for long-term growth. As a VP, he considers himself lucky to be able to put people at the centre of his decision-making. He also acknowledged he likes having a variety of different backgrounds and personalities on his teams.
In his opinion, diversity means more points of view and more debate. In the end, thoroughly hashed out ideas not only result in finding the best approach, they also help bring different stakeholders closer together. It's through ideas like these that Patrick embodies consensus-based leadership.
"You have the right to not understand everything"
Back when Patrick started out in IT, there was no such thing as iPods! With his impressive career, he is well placed to offer a few words of wisdom to those whose IT careers are just getting started:
"Try to understand not just what's going on the surface, but what's underneath, both on the technical and business side of things. You'll need to learn to work in a team and all the project lingo. And be curious. It'll give you a foundation to build on."
He added that, at Notarius, "you have the right to not understand everything."
That's our Patrick! Whether acting like a mentor or big brother, he is always helping others grow.
From the entire Notarius team, thank you!