Education
Optimize the process for signing official documents and increase your productivity without compromising the legal value of your documents.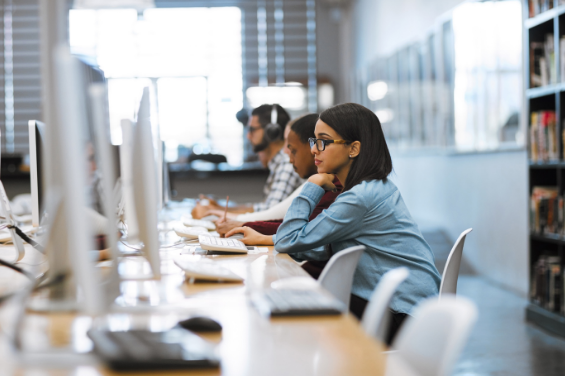 Sign Documents Quickly and Easily
Universities and educational institutions sign a large volume of documents each year. Our solutions accelerate the transition to a "paperless" environment while simplifying the document signing process. We support you in your transition to digital and help optimize your efficiency, without compromising the legal value of your documents.
Increased Productivity
When it comes time to have documents signed, sending the documents and following up with multiple signers can make the process long and cumbersome. Using our electronic signature platform, you save time and money while liberating your employees from the tyranny of paper.
Have multiple documents signed by multiple people for the same project.
Reduce turnaround times and production costs, without compromising the legal value of your documents.
Batch sign and convert documents to the PDF/A standard: sign multiple documents at once and ensure their longevity in just a few clicks.
Guaranteed Security
With our solutions, there's no need to send your documents by mail or email to have them signed in order to ensure their legal reliability. A digital signature confirms the signer's identity and prevents future alterations to the document. In addition, thanks to the PDF/A standard, you ensure that your documents can be read and validated for decades to come.
A Solution Adapted to Your Needs
Regardless of its size, your educational establishment has its own specific needs. This is why we offer multiple options that adapt to your context. Our team supports you throughout the process and provides training to familiarize you with our products. You can also customize the signature interface to reflect your establishment. Numerous universities across the world are already using our solutions to speed up their signing processes, reduce their related costs and ensure the legal reliability of their documents.
Reduced Risks of Falsification
When you use a digital signature to sign a document, you confirm that your entity is in fact the signer while ensuring its integrity. For example, when you digitally sign a diploma or academic transcript, you confirm that you are the entity that issued the document while simultaneously certifying the integrity of its content and its authenticity. The reader is then assured that the document is legitimate, that the signing entity is indeed the issuer of the document and that the information that it contains is true and accurate.
Wilfrid Laurier University & Notarius
For almost a year, Wilfrid Laurier University has been signing all official documents via our electronic signature platform ConsignO Cloud. Now, all departments are able to speed up their processes while meeting all requirements for compliance! Find out why Canadian universities must transform to be ready for the future.
When we had to turn to a digital signature solution to meet the demands of working remotely, at the start of the pandemic period, we were looking for a serious supplier, with industry-recommended information security certifications, offering a digital signature solution that had both the legal guarantees of compliance and the flexibility of use that met our business needs. Following the conduct of our analysis work, we turned to the Notarius ConsignO Cloud solution. From the time of acquiring the solution, until today, we have been supported with professionalism and rigour in all stages of implementation, configuration, training and maintenance of the solution. Chantal Nicol, Account Director of Business Solutions, as well as members of the technical support and development team have proven to be invaluable partners in facilitating our change management in every way. Notarius is a company which demonstrates great agility in its quality approach and its commitment to continuous improvement. - Jacinthe Coulombe, Information Security Manager, Administration| UQAT
Solutions Adapted to Your Needs
Discover the Advantages of an Electronic Signature
We offer free access to our ConsignO Cloud electronic signature platform for 30 days.
Questions & Answers
What is the legal value of my signed document once it is printed?
Regardless of the medium, what is most important is the preservation of information. In Quebec, according to An Act to Establish a Legal Framework for Information Technology, RSQ, c C-1.1, to argue in evidence, it must be shown that the integrity of the information has been maintained throughout its life cycle. In other words, the content of the printed version must remain identical to its original, digitally signed, electronic version to maintain its legal validity. Conversely, the same principle can be applied, for example, to the original paper version that is digitized and sent by email. The whole of the information must be preserved and we must ensure that it has not been falsified or altered by using protective measures such as a digital signature, an electronic seal, time stamping, etc. Such measures assure that any changes made to the document can be traced.
Are Notarius digital signatures recognized worldwide?
Notarius digital signatures are used to sign official documents and meet the standards of many countries. However, each jurisdiction may have specific requirements that must be met in order to be recognized. For example, in France, many agencies will only recognize French certificate authorities. In the United States, requirements for authenticating engineering documents will mostly be limited to a technological baseline, but not specific to a provider or a standard. As such, Notarius digital signatures meet or exceed the minimum requirements for all US states (except Hawaii). It is important to verify local digital signature requirements with recipients prior to submitting signed documents that use Notarius digital signatures.

Of course, other considerations need to be evaluated before making a digital shift. Please feel free to reach out to Notarius for a working session on the subject for further discussion
How are digital signatures secure? Can they be hacked?
Digital signatures are based on cryptography that was originally designed in the 1970s and is still considered the standard to secure different types of data. Digital signatures and their cryptographic derivatives are used in our daily lives to secure websites, communications, documents and financial transactions. If digital signatures were "hacked," the first case of attack would likely be in the financial, military or government sector. An individual's signed PDF document would be the least of a signer's worries.
What happens when I print an "original" PDF copy?
The printed version is a copy— nothing more, nothing less. You can produce one or two original copies of the electronic document and make multiple subsequent copies of it. It is the same as scanning a paper document into PDF format: the PDF is simply a copy. The ability to produce an original document and make copies is what is essential. A digital signature allows you to produce an original document in electronic format.
Ready to Go Digital?
Our experts will help you find the right solutions.