Join The Team
Working for Notarius means joining a remarkable employer and a growing company that stands out due to its dynamism, innovation and strong values.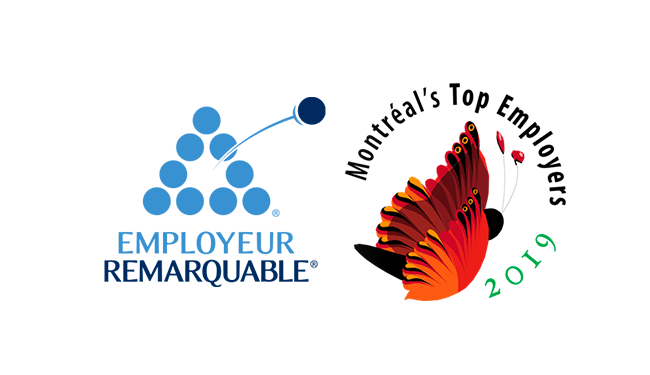 Work-life balance
We offer flexible working hours and a hybrid work model with the possibility of working remotely several days per week.
Competitive benefits
Our offices are closed over the holidays and we offer four weeks of vacation after 1 year of service. We also offer group insurance that includes dental coverage, access to the Dialogue telehealth platform and an excellent pension plan. We provide you an iPhone with a paid corporate plan.
A pleasant work environment
Located in downtown Montreal, our newly renovated offices are spacious with modern office lighting. In addition, our close-knit teams are passionate about their work which makes for an enjoyable work atmosphere. Participate in guided meditation sessions in a set up area and enjoy free tea or coffee.
Professional development
We encourage our employees to participate in trainings to develop their skills and succeed in reaching their career goals. As much as we can, we favour internal promotions.
Commitment to well-being and social causes
We are proud to support different organizations and dedicate our time to causes that we're passionate about. We also regularly organize activities with Club Social as well as team-building activities like sports and recreational activities, happy hour, barbecue and restaurants.
---
18
nationalities strengthen Notarius
100%
growth rate in the last 3 years
1996
The year Notarius was founded
CertifiO Cloud Launch
As the product of years of effort and development, Notarius announces the launch of its most innovative identity-verified digital signature solution yet: the CertifiO Cloud digital signature.
Thank you to our team for their work over the last few years and to our partners for their trust!

Leucan - Shaved Head Challenge
Notarius organized a Shaved Head Challenge in favour of Leucan! Special activities, good food, fundraising and hair on the floor!

Funds raised $6,505 (216% of the objective)
Congratulations team!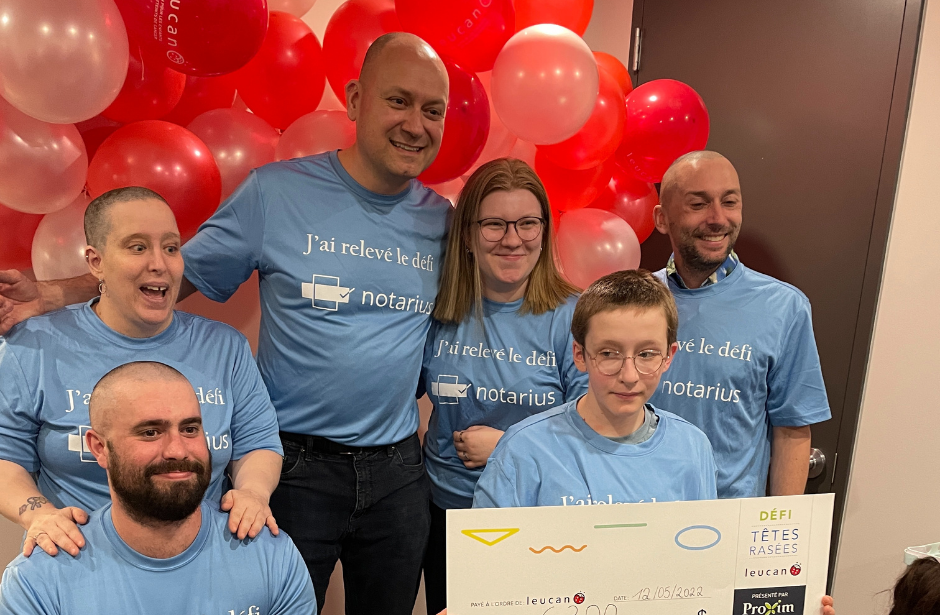 « Working at Notarius means having fun with your co-workers, sharing ideas and feeling that our products meet a real need. It also means being part of a family and working in a relaxed environment where beers on Friday night top off a full week. » Marc-André - Product Manager
« Working at Notarius is a true source of happiness for me. I never would have thought that I would be so motivated and passionate about a job, but the confidence people have in my work and the respect they have for my position greatly contribute to my sense of professional achievement. Notarius' strength lies in its employees, the working environment is truly enjoyable and everyone feels like they're in the right place. I always enjoy organizing social activities for my colleagues. » Fatima Ba - Accounting Manager and HR Advisor
« I have been at Notarius for almost five years now and I especially enjoy the pleasant work atmosphere and the fact that we are a close-knit company. There are many opportunities to challenge yourself, the projects are stimulating and Notarius offers good benefits. I feel so lucky to have so many resources available to me to do my work. I can be myself, I feel valued and I appreciate that my personal life is considered just as important as my professional life. » Stéphane - Infrastructure and Cloud Administrator
« Notarius is a company that genuinely cares about its employees. The fascinating projects, friendly co-workers and collaborative, healthy work environment are just some of the reasons I feel lucky to work at this company. » Maxime Paquette - Software Architect
Learn more about us
Visit our About Us page to discover our foundations, mission, vision and values.