ConsignO Desktop
ConsignO Desktop is a PDF reader that is designed with professionals in mind. Its advanced features allow you to sign one or more PDF documents quickly and easily, either individually or simultaneously.
Increased productivity
Sign batches of documents quickly and easily. Make your job easier and shorten the document signing process.
Advanced features
Get access to the most used features using right-click shortcut buttons. Define multiple signature zones, stamp, and sign your documents in fewer steps.
Guaranteed compliance
Guarantee the legal reliability of your documents while meeting the highest industry standards.
Prepare and Digitally Sign Your
Official Documents

Directly From Your Workstation

Whether it's a plan, drawing, quote, contract or other official document, printing, signing, and then scanning a document significantly slows down the signing process, resulting in a substantial loss of productivity. With its advanced features, our ConsignO Desktop PDF reader is specifically designed to sign one or multiple PDF documents quickly and easily, whether individually or simultaneously.

ConsignO Desktop is included in your subscription to the digital signature.
More Than a PDF Reader, it is a Complete Digital Signature Tool
You can perform most ConsignO Desktop operations in batches: sign documents, apply templates, convert documents to the PDF/A standard and validate their compliance, and more.
Performing batch actions allows you to achieve tangible gains in efficiency. Simply select all of the documents that you'd like to work with and perform the operation you need.
Even better, perform batch actions without even opening the software using the right-click shortcuts from your file explorer!
Thanks to right-click shortcuts, you can select your files in your file explorer and perform ConsignO Desktop actions without even opening the software, including converting documents to the PDF/A format, signing documents, validating signatures, and merging documents.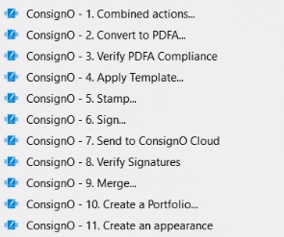 You can easily create templates for frequently used document types to automatically apply signature fields.

This feature ensures that signature zones are always automatically positioned in the right spot. You can also apply a template to multiple documents simultaneously.
ConsignO Desktop includes a signature appearance wizard to help you create and import different signature appearances.
A signature appearance is an image of your handwritten signature or seal. This image is linked to your digital signature and is the visible portion of the digital signature.
Automatically convert your PDF documents to the PDF/A standard to ensure they can be read and that their integrity and signatures can be validated for decades to come. ConsignO ensures conformity to the PDF/A standard even after a document is signed.
We recommend converting all documents with a lifespan longer than 12 years to the PDF/A standard.
Having to perform multiple actions in a single document can be inefficient. With ConsignO Desktop, convert your documents to the PDF/A format, apply a template and sign your documents in a single step using the Combined Actions option.
To use this option, right-click on the files from your file explorer or the ConsignO Desktop workstation tab.
Combined actions can be used on one or more PDF documents.
You can add additional types of documents (including XLS, CAD, JPEG and BIM files, and more) as attachments to a PDF/A-3 document and sign the PDF's content, regardless of the attachment's format.
In addition to all of the other features mentioned, ConsignO Desktop offers numerous advanced features that make signing documents easier.
Customized date format
Merging and retention of signature appearances
Stamping
Application of signature zones
Ready to Start?
See the power of ConsignO Desktop by signing up for a 60-day trial digital signature.
Still Not Sure?
Features

ConsignO Desktop

Adobe Reader®

BlueBeam®

Batch signing
Creation of multiple signature zones
Signature zone templates
Advanced management of signature appearances

Colour, font, position, dates, reason, text fields

Stamping
PDF merges
Verification of documents signed in batches
Verification of PDF/A compliance
Batch conversion to PDF/A
Customized date format
Right-click shortcuts
Combined actions
Merging (with retention of signature appearances)
Addition of attachments within the PDF
Portfolio
Questions & Answers
What is the difference between a signed document and a certified document?
During the signature of a document, the integrity of the documents data's is guaranteed by your digital signature. However, some feature will stay active to facilitate certain activity similar to signing a physical paper drawing (Drawing markups, … ).
During the certification of a document, you are still using a digital signature to guarantee the integrity of the document. However, you are also adding additional restriction on the document preventing further action on it.
What are the technical requirements for ConsignO Desktop?
A recent Windows or OS X version
Having an internet connection
Can someone sign offline?
Users do not need to be online to apply a digital signature. However, if a digital signature is executed when connected to the internet, a proof of validity (OCSP response or CRL) will be embedded into the PDF. If the signer is offline, they will still be able to sign the document, but without the addition of the proof that the digital signature was valid when the document was signed. However, even if proof is not embedded, a recipient can manually verify the status of valid digital signature. Notarius recommends that signers be connected to the internet when digitally signing documents that will need to be kept for a prolonged period, but it is still common and functional to sign offline. A common use case for signing offline is when a signer is in a remote location with limited internet access.
Can anyone verify the validity of a digital signature?
When a digital signature is applied on a PDF, it is possible to verify the details of the digital signature in the most common PDF readers, such as Adobe. The recipient can also choose to trust the signer and, if the same digital signature is used, automatically trust the digital signature for future document validations. Combined with the OCSP response and CRL provided when signing online, a recipient can trust the identity of the signer and protect themselves from potential identity impersonation.